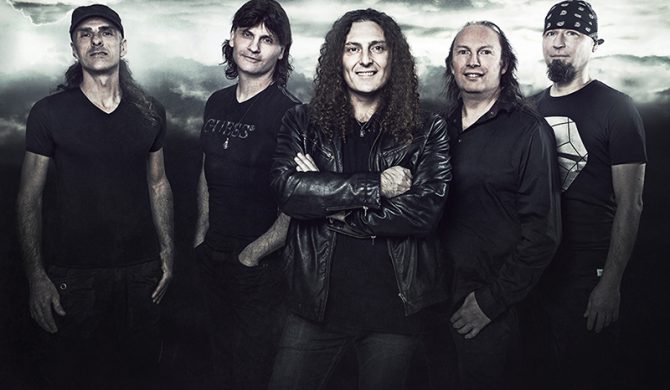 RHAPSODY: THE 20th ANNIVERSARY REUNION FAREWELL TOUR
Fabio Lione, Luca Turilli, Dominique Leurquin, Patrice Guers and Alex Holzwarth proudly announce the reunion of the original members of RHAPSODY, and the relevant farewell tour of the band.
The Italian band Rhapsody, one of the greatest icons of Symphonic Power Metal, will gather together to commemorate the 20th Anniversary from their first official release, playing their album "Symphony Of Enchanted Lands" in full, as well as other classics of the band. It will be an exciting and emotional event no one should ever miss, as this will be the only and last chance to see the band performing on stage together.
Since its consecration in 1997 with the album "Legendary Tales", Rhapsody has become a worldwide awarded band thanks to its unique, epic and orchestral sound. Initially baptized in the "Hollywood Metal" style, because of its movies-related fascination and its characteristic epic soundtrack elements, the Italian band established itself as one of the biggest names in Symphonic Power Metal thanks to their second release "Symphony Of Enchanted Lands", which soon became a classic of that music genre. Rhapsody's main influences also include classical composers such as Vivaldi, Bach, Beethoven, Paganini and many others (the song "The Wizard's Last Rhymes" from Rain Of A Thousand Flames, for example, is based on Antonín Dvořák's 'New World Symphony'). These elements made the band clearly unique in the whole heavy metal scene and, thanks to its magic, gathered lots of fans all over the world and inspired many bands, giving birth to a brand new musical wave and genre, that established a real and effective Rhapsody imagery. The 20th Anniversary Farewell Tour will represent a last chance for everyone to feel part of that wonderful magic once again. Luca, Fabio, Patrice, Dominique and Alex will celebrate such important and historical event with and for their amazing fans!
Luca Turilli states: "I am really super excited to be part of this unique and special event together with Fabio and my other friends. The fact of playing legendary songs like 'Wings Of Destiny', 'Beyond The Gates Of Infinity' and 'The Dark Tower Of Abyss', never played on stage before, will be the best way to celebrate the 20th Anniversary and a great reason to meet together for a very last time. This farewell tour represents for me the closing of one important chapter of my music career, as in the future I will dedicate myself to the cinematic music style of my new 'Luca Turilli's RHAPSODY' band and to other important projects exclusively. Don't miss such amazing event. It will be the last time you will be able to see me, Fabio and Alex Holzwarth together on stage playing some Rhapsody songs. We wait for all of you to share some wonderful emotions and live together some memorable nights!"
Fabio Lione continues: "'Magic'… this is what I always wanted to find in music… and when I think about this great and unique opportunity to be again on stage with Luca, Holzy, Dominique, Patrice and celebrate with them the 20th Anniversary of the band… well… I can say this is truly 'magic'! What an emotional moment remembering our great friend Christopher Lee, our stories, our feelings. After many years and things happened, I feel the time is right now… the time to close this important chapter of my artistic life in the best way, with my old friends, and share such 'magic' once again. We will celebrate 20 years of band history with all of you, beloved fans, in an unforgettable and glorious 'last time party'. Be part of it!"